Prototype for review: A guide to producing 'The State of Ageing' in your local area
Note: this is a prototype page. Please don't share
This guide aims to support local authorities, voluntary and community sector leaders and other activists who want to use data to drive change towards better later lives.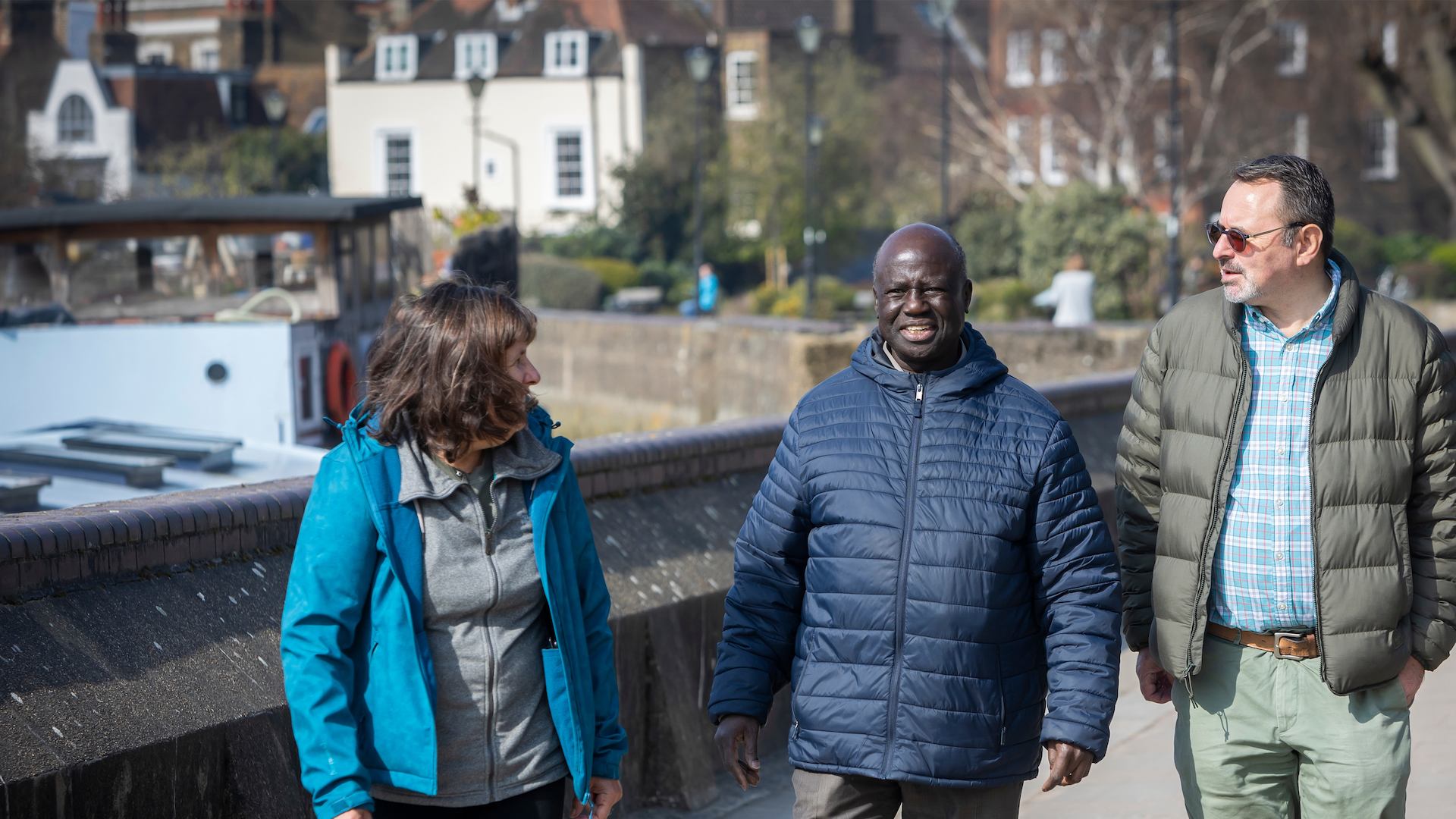 Contents
Designed as a whole document that proceeds in order, you can also navigate to the sections which are of most interest and can also stand alone. There are also tools/resources throughout designed to help you get familiar with ageing data and understand how to use it to support your work.
Introduction: why data is useful and what this guide offers
Understanding your local population, where and how well people are living and ageing, is fundamental to creating effective local ageing programmes and policies.
Using data to inform your work around ageing can help you understand the impact your work is having, drive public and political focus on important issues for older people, and both make the case for and target resources more effectively.
In addition, the process of identifying, gathering, analysing and interpreting data can help to build relationships with important stakeholders; if they are involved and engaged throughout the process they are more likely to go on to become advocates, supporters and even deliverers of work to improve the experience of ageing in your communities. It also offers an opportunity to have a public conversation about what matters.
Developing this understanding is the first step on the journey to be coming an Age-friendly City and Community in the World Health Organisation's Age-friendly programme cycle which recommends the production of a baseline report to understand your community's starting point.
This guide builds on our national State of Ageing report, which brings together a wide range of data sources on ageing nationally, and our work on a local State of Ageing in Leeds. It offers a step by step process to developing your own local approach to data and ageing.
Introducing the age-friendly domains
To begin developing a data-led approach to ageing, it's first useful to have a framework around which you can organise your data.
The World Health Organisation's Age-friendly City and Communities framework sets out eight domains of community life that local decision-makers, networks, and service providers need to be considering in their strategies around ageing. We use this framework to act as the scaffold of a data-led approach to ageing, and put older people at its centre.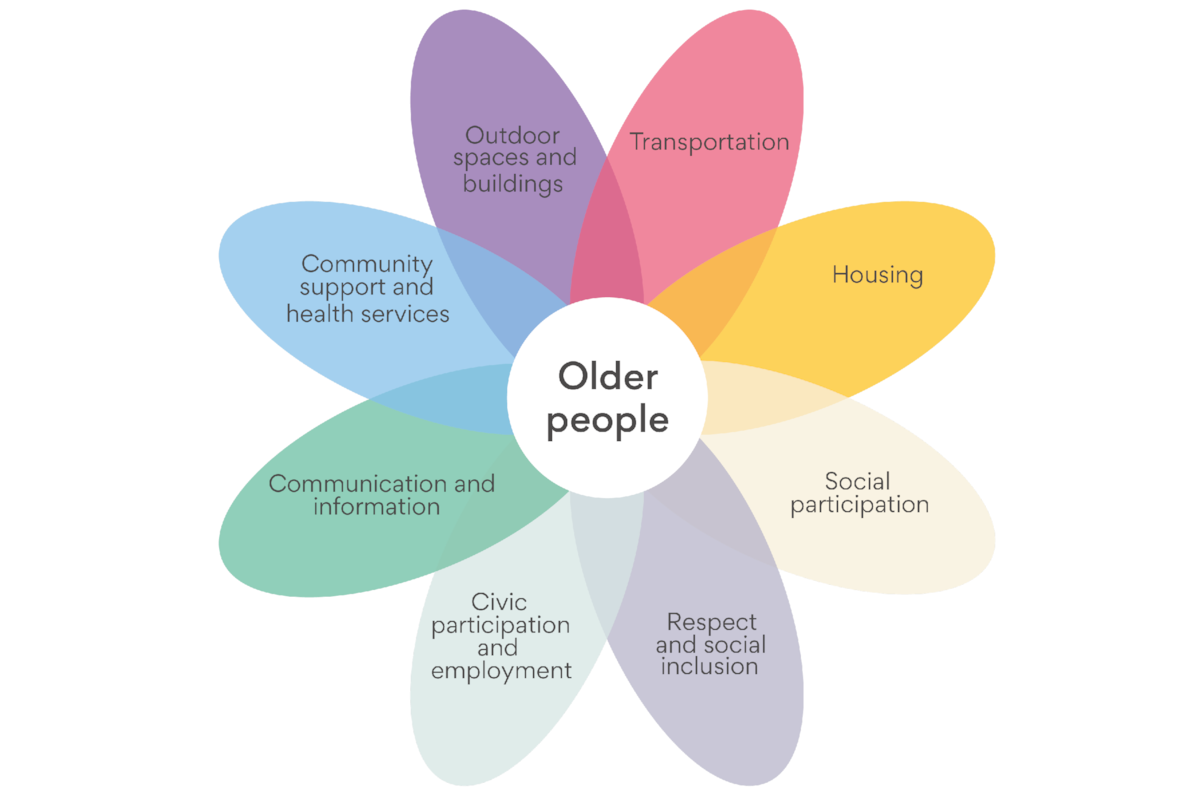 Outdoor spaces and buildings
The outside environment and public buildings have a major impact on mobility, independence and quality of life for older people. Accessible public buildings, walkable spaces including parks, seating and public loos all contribute to being age-friendly and can make all the difference to people of all ages.
Affordable, reliable and convenient transport options enable older people to get out and about and continue to do things that matter to them. Whether it is to go shopping, meet friends or attend appointments, good transport is essential to everyone, particularly those who don't drive.
Considerations for housing as we age include affordability, appropriate design and layout, maintenance provisions and community integration. We know that poor housing can have a huge impact on health, and 20% of homes occupied by older people in England are classified as 'non-decent'. Better housing can help to maintain or improve physical and mental wellbeing – as well as social connections.
Participating in leisure, cultural and spiritual activities in the community is vital for a sense of belonging. Positive interactions with people around us is essential in helping prevent loneliness. People over 50 who volunteer or otherwise actively participate in their community tend to be happier as a result and tend to report both more and deeper relationships with others.
Respect and social inclusion
Despite "Age" being a protected characteristic ageism is prevalent across the UK. Ageism tends to play out through its interaction with other structures that marginalise people like racism, sexism, and homophobia. A society where people can age well includes education about ageing, intergenerational activities and respectful and inclusive services.
Civic participation and employment
Good quality volunteering in later life has a measurable positive impact on mental health, and paid work can have a positive impact on wellbeing as well as finances. Yet the opportunities for this diminishes with age: only 72.3% of people aged 50-64 are in work, compared to 85% of people aged 25-49.
Communication and information
A good quality later life relies on information that is accessible to older people. This can involve using plain language, resources for people who don't have English as a first language, oral and print communication and ensuring electronic equipment and automated services are easier to use. While much information is now shared online, 47% of people aged 75 and over have never used the internet. The information may be out there, but it isn't always accessible for older people.
Community support and health services
By the time people reach their 80s, 54% of adults need help with one or more daily activities like bathing, cooking or using the toilet. Based on current trends, healthcare spending will have to increase by 3.3% and social care spending by 3.9% every year for the next 15 years, just to keep pace with increased demand. As the older population grows in size, the need for health services and support in the community grows too.
For more insight into these domains, and some of the evidence and best practice behind them, check out Ageing Better's page on the eight domains.
Selecting Indicators
Indicators are key to a data-led approach to ageing, and this section will help you build an understanding of what they are, why you might use them, and how to select them. It also discusses how often to update them. It is designed to help you understand the considerations which go into using indicators, which you can then use flexibly as you start thinking about using data to inform your thinking on ageing.
In general, indicators are pieces of data – either quantitative (data which counts or measures things) or qualitative (data that doesn't count things but explores what they are like)– that we think tell us something important about an issue that we care about and – when measured over time – can give us an understanding of the progress that's being made. Examples of indicators related to ageing can include the number of people accessing a service aimed at people aged 60+, the employment rate of those aged 50-64, and the proportion of people over 65 living in fuel poverty. If you wanted a qualitative indicator, you could think about the experience of fuel poverty for over 65s.
Indicators exist at a range of different levels. We can measure 'smaller' things about projects that we run, like the number of participants in a service or the average time taken to assess a client's needs (also known as operational performance indicators). We can also use indicators to understand the wider population and how the system is working, for example looking at the number of falls in a local authority (also known as strategic indicators).
This guide focuses on strategic indicators, because these will help you understand the conditions of ageing in your area. However, sometimes using strategic indicators is not possible, in which case more readily available operational indicators can be used as 'proxies' to help tell part of the story of change.
Why are indicators useful?
Indicators can:
Help you understand what's going on in your area and identify particular areas (neighbourhoods, groups of people, or topics) that require attention.

Improve decision-making processes and practices, for example indicating where to target a particular service for older people.

Enable the monitoring of progress, tracking change over time.
How do you select indicators?
The process of selecting indicators is as important as the insight which they can yield. This process needs to be a partnership between older people, the private, public and voluntary and community sectors. By working collaboratively, you can begin to break down siloes and encourage those working on ageing to come together and focus their action.
There's no right or wrong way to bring together a set of indicators, and your process should be pragmatic and proportionate to the scale and needs of what you're doing. However, whatever your process, older people's priorities and experiences should be central, and it is important to engage with a group of older people that reflects the diversity of your community.
The selection process can, broadly, follow three steps:
Step 1: building a working group. This assessment requires different types of knowledge – understanding quantitative data and statistics, understanding older people's experiences, understanding your organisational needs from this information, and a rich understanding of your local area. It's unlikely that one person could hold all of that expertise, so it is best to build a working group early on to bring together the necessary insights for the following steps.
Step 2: creating a long list of indicators. This could involve mapping the different aspects of your strategic vision on ageing against the available data sets. Our [insert datalist link] gives you a place to start, providing key data sets against the different domains of age-friendly. However, you might want to add to this list with data that is collected locally, for example through joint strategic needs assessments and local plans. 
Example: You might have access to data on the uptake of concessionary travel passes. This doesn't exist nationally, but might be collected locally and could be a useful indicator to add to your long list  
Step 3: assessing the quality of the indicators in your long list. It is rare that an indicator will be absolutely perfect for you, and each needs to be understood in terms of its pros and cons – what makes it useful and what its limitations are. This is an important step, both for selecting a good group of indicators and also for being able to interpret the data well later. The pros and cons are somewhat specific to your area and purpose, but there are some questions that you can think about to figure out those answers:

Is the data reliable? If you aren't comfortable with quantitative data, it would be worth talking to a colleague who is. They can think through considerations about whether the sample size is big enough, and what kind of more granular analysis (e.g. comparing gender, age groups, ethnic groups) is possible.

Is the data relevant to your local area? For example, if you have a piece of regional data, do you have good reason to think that your area is very different in important ways to the region as a whole?

How does the data speak to the experiences of different groups in your area?  Which groups are missing from this data? (This may be another question for colleagues who are more familiar with the detail).

What does the data actually tell us, and is this what you need to know? (Again, a data analyst colleague can help you with the more technical issues of how things are measured and defined).

As a group, do these indicators cover all the aspects of what you consider good ageing? Or are they clustered around particular domains? In which case, do you need to think more creatively about how to understand some domains?
Example: Maybe you look at the average income of people over 50 in your area. It is quite high, which fits with your largely affluent area. But you also know that there are pockets of severe poverty, which are hidden by this averaging across the area. So perhaps you want to consider a measure of deprivation instead, at smaller geographical areas, to help identify where you need to be focusing support.'
Step 4: armed with this better understanding of your options, select a short list. This could just have one or two key headline indicators but, depending on the complexity of the theme, you might want a few more. We recommend not having too many – there's always a risk that an overload of data detracts from a clear and focussed approach that you can bring stakeholders together around. However, if you do have a complex domain and a lot of useful data, you could break the domain into a few sub-domains which each have their own indicator set.
When should you update indicators?
You don't need to constantly update your indicators, but it's important that they don't become static. Some indicators will be based on datasets that get updated periodically (monthly, quarterly, or annually), and you'll want to consider how often is useful for you to be monitoring them. Other data sets might be a one-off, produced from a piece of analysis done by a government department or from the Census. As time passes, you'll need to consider whether a piece of data is still relevant – is it still a useful insight, or have things changed considerably and it can no longer be relied upon to tell us something meaningful? This will need to be done on a case-by-case basis, bringing together insight into
Trends in the data itself i.e. does this figure usually change a lot month on month or year on year? Or is it stable for longer period of time? If so, it might not matter as much if it is a few years old.

Your local area i.e. do you have reason to think that the local area has experienced some big changes which might mean that this data set has become out-dated?
You might also experience changes in your local area which mean it's important to add a new indicator, to respond to a new situation. An indicator set is only as useful as it is useful to a particular context, so feel free to be flexible and practical when you update your indicators. Just be aware of why you are doing it, and what you are hoping to achieve.  
Where to access data
Using quantitative data can feel like a step outside your comfort zone if you're not familiar with it. While some people working on ageing will have support from data analysts in their organisation, others won't. Some may have analysts available but aren't sure what to ask them for.
To help you get started, we have compiled an overview of the data that is publicly available on ageing at a local level for each of the eight age-friendly domains. This isn't meant to be an exhaustive list (although we have tried to be thorough) but rather a starting point which sets out the broad landscape.
It is important to be cautious with interpreting data, and this overview is not intended to provide a blueprint to bypass the necessity of that work. Instead, it is intended to give you a sense of what is out there, to help you inform your thinking and conversations with data analysts in your local authority if you have that support.
We have limited this overview to sources that are available for areas across England. It might be that the data that you really want is not available across the whole country, but that it can be supplied locally, or that qualitative insights can be used to develop a richer local picture.
Headline figures for your local authority
You can view some headline figures on ageing by searching your local authority in the search bar below:
Additional resources to help you get started
Or you can explore this and other data in more detail by downloading the full overview here. 
Many of the sources listed are direct links to spreadsheets where you can search for your area, while some require more user input. Stat-Xplore is the online repository of the data regularly published by the Department for Work and Pensions on welfare benefits, and requires more user input to shape and download the data. To help with this higher barrier to entry we have created a guide to help first-time users understand what Stat-Xplore can offer.
Dealing with data gaps
Often the things that you need to know to shape more effective policy and programmes, won't come with a matching set of quantitative data. If you've explored the data sources linked in the section above, you might have noticed some of these gaps. For example, housing data largely comes from the English Housing Survey, a national survey which doesn't allow you to drill down into smaller local areas.
Similarly, a dataset available for the local authority as a whole won't help you understand how things differ within the area. Other data sets let you compare between smaller areas, but they treat older people as one unified group rather than letting you understand how differences – like wealth, race/ethnicity, disability, gender, or sexuality – shape people's experiences of ageing and their quality of later life. These are things that are crucial to explore if you are going to start tackling the inequalities that persist across society.
Locally produced data
We have focused on data that is available across England, but it's very likely that your area also collects other useful data. It is crucial to engage with colleagues across your local authority and explore the kinds of insights that they might be able to offer on ageing locally. You might do this informally or host a roundtable with colleagues where you discuss the domains and brainstorm the data available within the council. This could include data sets that they collect, surveys that they have done, or other kinds of knowledge that they have (quantitative or qualitative) about services and needs in the area.
Example: Transport
There isn't a lot of nationally collected data that tells you about older people and transport in local areas, and different parts of the country have vastly different transport patterns which makes national-level or even regional-level data quite unhelpful. However, everyone of State Pension Age in England and Wales is entitled to a concessionary travel pass and there will be data on the take-up of this from the issuing authority, which you can ask for and analyse to identify patterns within your older population of which groups are making use of this. Perhaps you collect demographic data in these applications already, or you might be able to identify the hyper-local areas where uptake is higher and use your local knowledge of their demographic characteristics to inform some starting assumptions about who is accessing the pass, and which communities may need a more focussed approach to help them access it.
Example: Housing
The English Housing Survey (EHS) reports national and regional data; this isn't necessarily very useful for understanding the housing of older people in your local authority because your housing stock may or may not have the same patterns and issues.
However, the EHS can still be a useful starting point for thinking about housing in your area. If you look at the tables that the EHS produces through an ageing lens, you may get ideas for the kinds of questions that you could be asking of the housing team in your local authority who may already hold some of this knowledge.
You may also have some resource to produce new local data. Surveys are one method that you may be able to use, although they can quickly become expensive, and it might be more realistic to add some questions to any existing resident surveys. In 2019, Ageing Better produced our 'Ageing Better Measures Framework' that brings together high-quality, robust measures for understanding individual level outcomes around ageing. This provides guidance on the kinds of robust, validated questions that you could ask.
It is important that when we talk about 'data' we don't develop a tunnel-vision focus on numbers or quantitative data. What we are really interested in is building knowledge around ageing, and numbers are one tool for doing that. Other ways to produce new local insights could be through running focus groups with older residents.
It is important that when we talk about 'data' we don't develop a tunnel-vision focus on numbers or quantitative data.
These could be focussed on particular issues which you already know are important locally – for example fuel poverty in the east of the borough – or they could be more exploratory, designed to uncover persistent issues facing older residents that are not already on your radar or develop an awareness of rapidly emerging issues.
Moving beyond the "usual suspects"
When gathering both qualitative data locally, it is easy to rely on the groups/parts of the communities with whom you are already have strong connections. However, it is important to push beyond these "usual suspects". You can start thinking beyond these circles by asking colleagues which residents' groups they can help you access. Do these groups reflect the breadth of different experiences of ageing across your area? Are there other groups or less formal networks that you could build relationships with to bring in new perspectives?
This is particularly important as the people farthest from your usual circles might also be those experiencing the sharpest edge of inequalities in the area. These are the parts of your community where you need to be focussing attention. The same goes for quantitative data.
Top tip
If you are commissioning a survey, for example, on older people and the costs of living crisis, consider which groups you know the least about, who gets hidden most in the national data, and who is likely to be most negatively impacted by inequalities in later life.
Thinking about age's intersections
There isn't one universal experience of ageing
At Ageing Better, we understand that there is not one universal experience of ageing but rather that experiences of older age differ between individuals but also, crucially, between different parts of the population.
We know, for example, that life expectancy and health among older people are greater in the south of England than the north (a pattern that mirrors the distribution of wealth and poverty across the country), and that older people from Black, Asian and Minority Ethnic groups live with worse health than those from White ethnic groups. Such inequalities are not random but rather shaped by the effects of discrimination around race, gender, class, disability, and sexuality. Inequality is structural and shapes how we are treated by society and the state: the kind of education we will receive, the kinds of jobs we will be able to access, whether we receive good-quality healthcare services and spend our lives in decent homes, and whether we will reach retirement with enough savings to live comfortably.
When we look at headline statistics, they often hide inequalities across the population
Turning to quantitative data can sometimes mean that we lose sight of these inequalities, because an overall trend or headline can effectively mask a more complex picture. This is especially the case with data covering the lives of many people and diverse communities. For example, an increase in life expectancy among your whole population can hide the unequal distribution of those extra years which might be accruing to wealthier groups while poorer groups see no change or even a decline in their life expectancy.
Age is always playing out in complex combinations
It is also important to remember that, to understand how inequalities are playing out, it's not just an experience of "ageing AND" another "category". Rather, age (as a category) is interacting with multiple others at once to produce different inequalities and experiences.
These intersections are complex meetings of discriminatory systems around gender, ethnicity, disability, and sexuality (among other things). For example, racism and gender creating unique experiences of systems of racism and sexism for Black Caribbean women in later life which will be different to the experiences of their peers who are White women or Black Caribbean men.
But most quantitative data does not let us look at this
Most current quantitative data doesn't really help us think about these complex combinations – sometimes called "intersectionality". Looking back at the sources of publicly available local data that we highlighted above, you might have noticed that these nuances are rarely reflected. There are a couple of reasons for this:
Small sample size of surveys (especially at local levels) often mean that there are not enough respondents to provide statistically robust estimates of smaller parts of the population

This leads to an absence of minority groups in UK research, including Black, Asian and Minority Ethnic older people, disabled older people, and LGBTQ+ older people. For example, the UK's largest survey of ageing, the English Longitudinal Study of Ageing (ELSA), running since 2002, included less than 5% ethnic minority sampling at its most recent data release, in a country where 13% of people are from Black, Asian and Minority Ethnic backgrounds. A BMJ editorial has termed the exclusion of adequate Black, Asian and Minority Ethnic representation from population studies as a 'form of institutional racism'.
Statistical robustness:
Quantitative data is often based on a sample of people – as it's difficult to ask a question to an entire population, you ask a smaller group instead (a 'sample'). A statistically robust sample is one that is large enough to be considered a reliable estimate for your population as a whole. The smaller your sample, the less robust it becomes. This means that samples of smaller groups within the whole often cannot be picked out (because the sample size becomes too small), thus hiding any differences.
However, the EHS can still be a useful starting point for thinking about housing in your area. If you look at the tables that the EHS produces through an ageing lens, you may get ideas for the kinds of questions that you could be asking of the housing team in your local authority who may already hold some of this knowledge.
This is far from a simple absence to address, made more complicated by a history in many communities – including Black, Asian and Minority Ethnic communities, also in White and multi-ethnic working-class communities – of high levels of government scrutiny, monitoring, and discrimination.
Top tip:
It is vital that communities are actively involved in planning and interpreting data, that it is produced with them rather than about them.
How can you use data to think about age's intersections?
Start from local knowledge
The first step is to understand the ways in which your quantitative data is limited. This means applying local knowledge in your interpretation of it – what are the different communities in your area, and what might be the structures of inequality that will shape their varied experiences of an aspect of later life? Similarly, are there ways in which thriving might look different in different communities which your data might also be masking?
Think about differences within groups
Many datasets (even at a national level) only allow analysis of White compared to Black, Asian and Minority Ethnic groups taken as a single unit. Instead, a multi-ethnic approach (being specific when talking about ethnicity) allows you to understand more specific conditions impacting different groups while not denying that Minority Ethnic groups may well share some experiences of discrimination.
You should be thinking about differences such as class, gender, disability, and sexuality between your ageing residents.
For example, if you are looking at differences in employment rates by both ethnicity and age you should attempt to compare the rates of different groups (e.g. White, Black Caribbean, South Asian or Pakistani etc.) rather than just White compared to Black, Asian and Minority Ethnic groups. You should be thinking about differences such as class, gender, disability, and sexuality between your ageing residents.
Where you have a piece of quantitative data that gives you a headline but no more detail, you can use qualitative insights to develop an understanding of how different groups are experiencing that aspect of ageing.  However, as discussed in 'Dealing with data gaps', this quantitative data often doesn't give you this level of detail.
Qualitative insights
Where quantitative data is not granular enough to well represent different experiences and issues within your local area, qualitative data offers another way to develop useful knowledge. We have already discussed focus groups, and you might also want to think about case studies as another useful tool for exploring and presenting qualitative insights. These can be a variety of formats, including written case studies or short videos. What case studies let you do is really dig down into something – a topic, a service/organisation, a person or neighbourhood – and explore it in depth.
Below is an example produced by the Centre for Ageing Better about the experiences of ageism in job recruitment. This format, focussed on a few people and their stories, lets you dig into ideas that can be hard to define, giving people the opportunity to articulate what they mean in their own lives and words.
You might also want to use case studies of your own work as a way of sharing good practice and learning with other areas working on ageing. Here is an example from the Age Friendly Communities Network from a project in Newcastle on digital visibility.
How to interpret data
A data-led approach to ageing isn't just about generating a number but using that number, putting it in context, to develop a richer understanding of where you are. People often hope that quantitative data will provide an answer, but it can be helpful to think of it instead as the start of many more questions. By figuring these questions out, you reach useful knowledge.
For example, you download data from the Department of Work and Pensions which shows that 2100 people in your area are receiving pension credit. This figure is factual, but it doesn't tell you much. Even if you calculate it as a proportion of state pension age residents, and find it's 12%, it still doesn't tell you a huge amount. You need to interpret it within your knowledge of poverty in the area, which you can build by bringing in the Income Deprivation Affecting Older People Index, and the knowledge of local service providers. Then it starts becoming more useful and you start to get a sense of whether this 12% is good (everyone who is probably eligible is already receiving it) or bad (actually, a lot of probably eligible residents are currently missing out). But you still don't know anything about the experience of those receiving pension credit – how did they know they could apply? Is the extra income enough, or are they still struggling? You might also start to ask questions about how take-up varies across our area – are some communities or groups accessing it more than others, and if so why? Perhaps they have access to a hyper-local service which is signposting them, or there has been a campaign by a ward councillor. Perhaps many older people in one part of the community don't have good English language skills and miss out on information about their entitlement. All these questions help you to build a better understanding of what is going on, and how you might be able to improve things.
Sometimes the avenues of these questions won't surprise you, and the answers that you're finding will chime with what you know about your area already. At other times they might surprise you. This is why it is important to make interpretation a collaborative process, so that different understandings are applied to the data. Sometimes you'll need advice from data analysts in your area who can understand the technicalities of a the data set to inform discussions of what it is actually showing. It might also be useful to discuss your insights with other areas who are also thinking about ageing. It is also vital to include older people in the interpretation process, to understand how they experience an issue and hear their insights about what kind of change they would value.
Ideally, we want to try and "triangulate" our data. This means drawing on a range of different sources and types of data – the numbers, the focus groups and case studies, the discussions with colleagues – to tell the full story and bring the numbers to life.  
If we want to understand whether older people can adequately heat their homes in winter, we might look at data on home insulation, fuel poverty and excess winter deaths. We might also try and collect qualitative data to build our understanding of the experience of living in a poorly insulated home, or the experience of someone who can't afford to have their heating on due to the cost of energy. We might also want to speak to those maintaining local authority-owned homes, to understand how provision currently happens and where they feel it needs to be improved.  
Benchmarking as a tool to help interpret data.
Benchmarking is where you compare a local indicator to different places or times. For example, you could compare women's life expectancy in your local authority to the national or regional average. You could also benchmark against your own local authority now and track how life expectancy is changing over time. Benchmarking offers a tool for interpreting data by giving you some extra information or context within which to understand what is happening in your area. However, to give you useful context, it's crucial that you're benchmarking against the right things.
Triangulating data is both a quality assurance process – it helps us to ensure that the stories we are telling are grounded in reality – but also helps us to understand the key drivers of change.
Building narrative and communicating with stakeholders
A data-led approach to ageing is one where you use quantitative and qualitative data to build a story of what it means to age in your area and inform your decision-making to improve it. While quantitative data can give you the scaffolding, the bare bones of the local context, the work of interpretation helps you fill in the details of this story. It's important not to lose this richness of narrative when it comes to communicating what you have learned; this is the part of the process where you use this knowledge to continue engaging your stakeholders, build further buy-in, and inform the public and policy conversations around later life.
Here is an example of a video produced by Ageing Better to develop the narrative around our State of Ageing report, focused on the voices of older people.
The process of bringing data into your approach to ageing is hugely useful, not only for the knowledge that it produces but also for the connections that you make as you go through that process. This might be connections with data analysis colleagues, colleagues in other parts of your local authority who become more aware of ageing, local services providers, and older people's groups.
This is the local ecosystem which will need to be working together to improve later life. There are many ways to do this. One example is bringing older people into service design, thus strengthening the understanding between service users and providers. Another example is The Big Leeds Chat, which runs events across the city where senior decision makers in Health and Social Care speak directly to citizens.