How to support your older workers
Older workers are the workforce of the future. The ageing workforce is a trend that cannot be ignored by employers.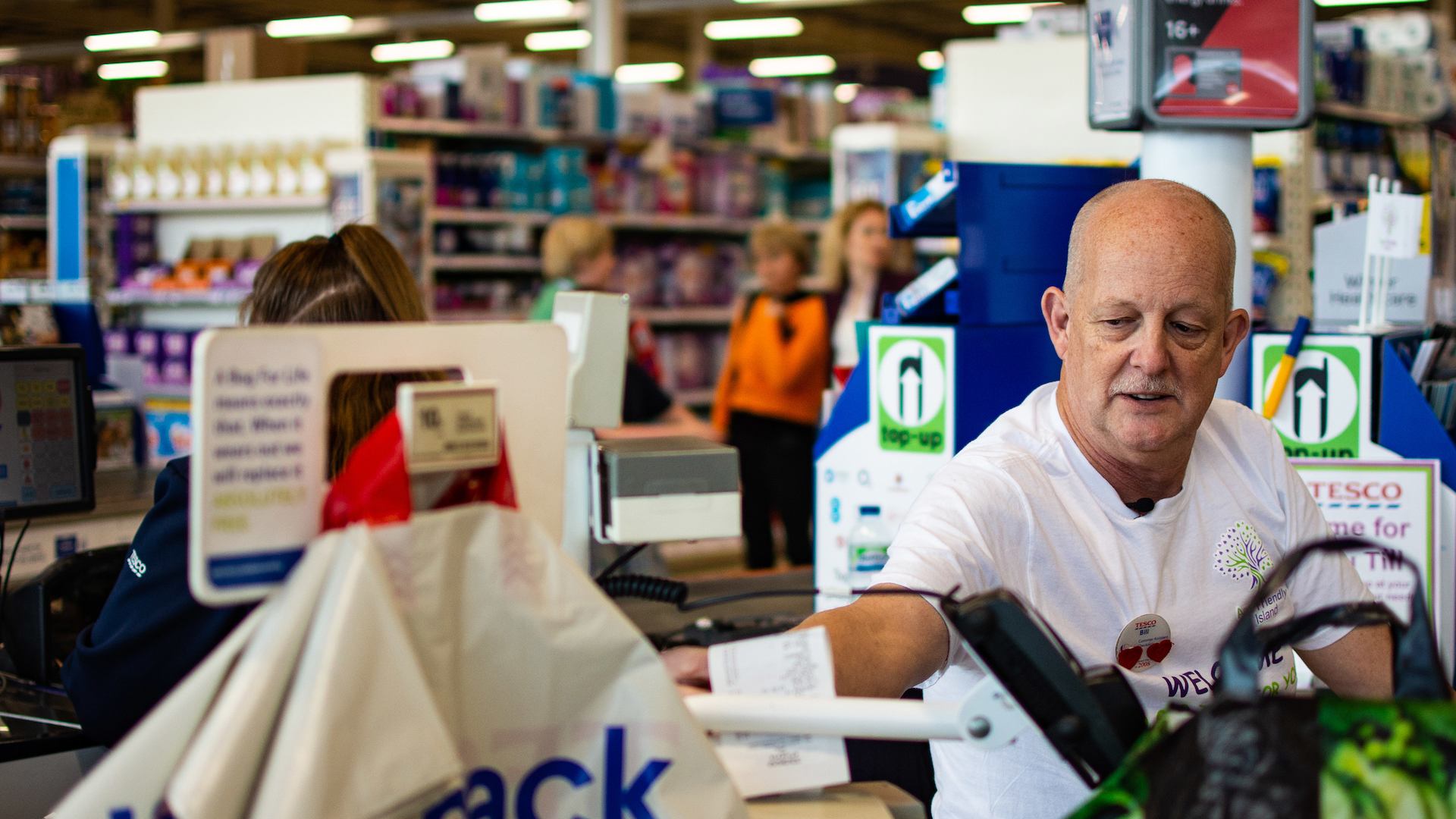 Writing for the CIPD's blog, Aideen Young argues that employers need to rethink their approach and make sure they work in ways that support people of all ages.
We all know the UK population is ageing. In the 15 years to 2031, there will be a 25% increase in the number of people aged 65 to 79 and a 4% decline in the number aged 20 to 34.
These demographic changes will have far-reaching consequences across society. Inevitably, they will be felt in the workplace too.
By 2025, there will be one million more people 50 and over and 300,000 fewer people 30 and under in the workplace. One in three of the working age population will be 50 or over.
As older workers are the workforce of the future, this is a trend that cannot be ignored by employers. But what does it mean in your place of work? Can you, the employer, assume that current ways of working – which are, by and large, impervious to age – still apply?
To understand this, we need to consider what older workers need and want in the workplace. Research we conducted at the Centre for Ageing Better has shown that, in many essential ways, older workers are just like their younger colleagues. Like them, people in or approaching later life want work that they find personally meaningful, intellectually stimulating and sociable. They want jobs that are flexible and come with opportunities for learning, mentoring and career progression.
But too often, they're not getting this.
Career development is always a key tool in employee management and this is as important and relevant for older workers as for anyone else in an organisation.
Many employers are not supporting their older workers
Ageism remains pervasive; older workers are widely perceived to be unproductive, set in their ways and unable to adapt to change. They are routinely overlooked for training and career advancement opportunities.
The Centre for Ageing Better surveyed employees over the age of 50 for its report, 'Becoming an age-friendly employer'. One in five of those polled believed that other people see them as less capable due to their age. Nearly half said that their age would disadvantage them in applying for a job.  
Older workers are leaving their jobs through frustration at lack of support, but say that they would be more likely to stay if they thought that their work mattered, their employer supported them and their needs were taken seriously. Career development is always a key tool in employee management and this is as important and relevant for older workers as for anyone else in an organisation.
Where older workers do need consideration that differs from that afforded their younger colleagues is around health issues and caring responsibilities. While people of all ages may have a health condition that affects their ability to work, or be an informal carer for a loved one, these characteristics do become more prevalent with age.
Around 25% of 25-49-year olds have a long-term health condition, compared with 44% of those aged 50-64. And the proportion of the working age population with one or more long-term conditions is set to increase. At the same time, one quarter of the people aged 55 and over who have a health condition and are still in work are considering leaving because of their health. Or, rather they are leaving because of the challenges of doing their jobs given their health.
Caring responsibilities tend to fall to people in mid-life. One in four older female workers and one in eight older male workers have caring responsibilities (ONS, 2019). Carers UK report that 2.6 million people have had to quit their jobs to care for a loved one who is older, disabled or seriously ill, nearly half a million of these in the last two years alone.
All these issues lead to people leaving work before they are ready or want to. And we know that losing a job after the age of 50 is more likely to lead to long-term unemployment or inactivity compared with job loss at younger ages. Currently, 38% of unemployed individuals in the UK aged 50 and over (116,000 people) have been unemployed for over 12 months, compared with 29% of 25-49-year-olds and 19% of 18-24-year-olds (ONS, 2017). Overall, there are almost one million 50–64-year-olds who are not in work and trying to find work.
This has serious implications for the individuals involved. But the phenomenon of older employees quitting work has ramifications for businesses too. There were 870,000 unfilled jobs in the three months to January 2019 (ONS, 2019), suggesting that employers are oblivious to the large pool of potential employees – albeit older ones – staring them in the face. If businesses are to remain competitive, they need to be open to hiring older people and they need to support the older workers they already have. Amazingly, at this time, just one fifth of respondents to a CIPD survey have some form of age strategy agreed at board level.
Businesses can get ahead of their competitors by creating age-friendly workplaces where people of all ages are supported, valued and fulfilled. And it takes just small changes to make this happen: early access to support for issues around health or caring; small, practical adjustments to the workplace; flexible working arrangements, managers that treat staff with empathy and an age-positive culture including at the point of hiring. Of note, 70% of millennials want flexible working options too, so we're talking about workplace improvements that will be welcomed by everyone, and not just older workers.
If older workers are to be happy workers, they need age-friendly workplaces.
People approaching later life need help to plan for the future
There's another key aspect of the older worker that needs to be considered too. They are in or approaching the latter part of their working life, and that period of life beyond work, whether it's full retirement or something else. There are many big questions to be considered. What do you want to do about work in the coming years? Are you going to retire, and if so when? How are you going to fund your "retirement" and what will you do? Should you downsize? What if you develop long-term health conditions or need long-term care? And do you have the tools to manage the transitions that characterise later life?
We know there is a significant lack of planning for later life. This has serious implications for quality of later life. People in mid-life need support to help them appraise their situations, identify their goals and put in place the steps that will help them achieve the later lives they want. This concept – comprising a holistic review of work, finances, lifestyle, health, career, home, family and retirement – has been termed a mid-life MOT or a mid-life review and is rapidly gaining traction.
Last year, the Centre for Ageing Better published 'Developing the mid-life MOT', showcasing the results of a pilot scheme involving Aviva, Legal & General, The Pensions Advisory Service and Mercer that was positively received by participants.
The suggested framework for a mid-life MOT is as follows, although this could be tailored to suit employee and employer: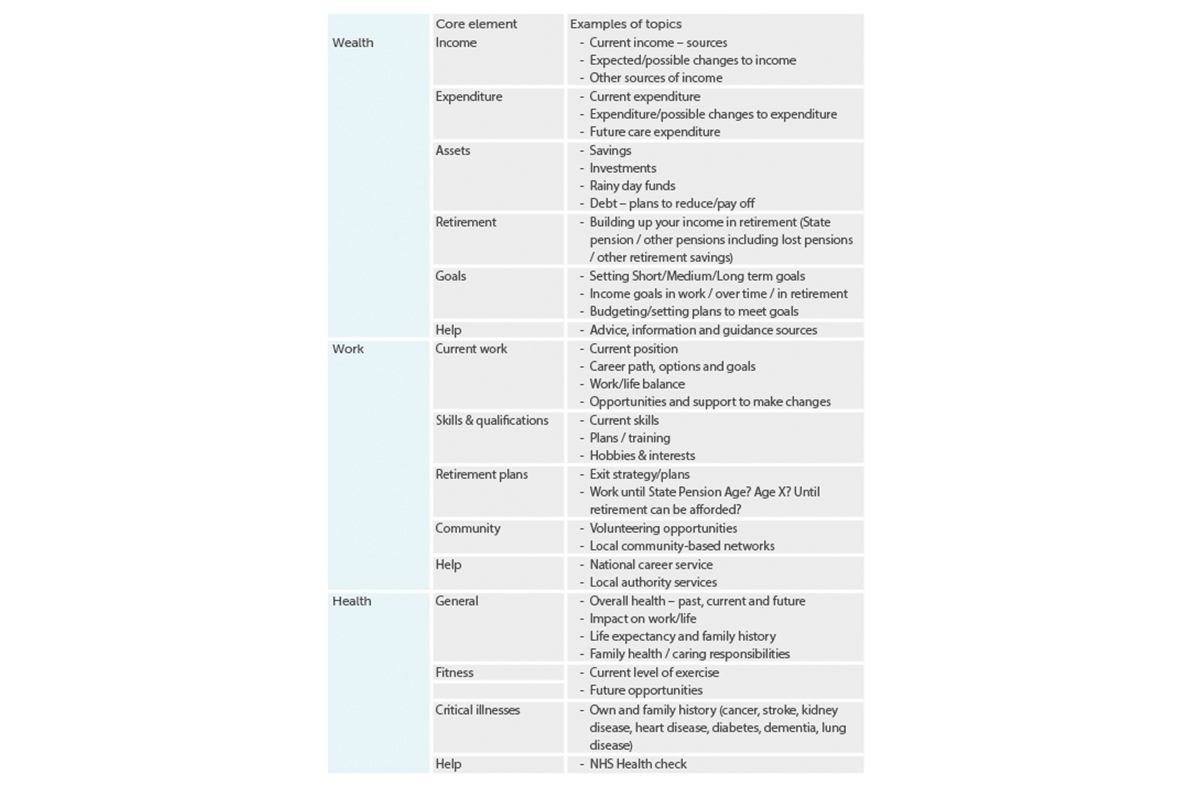 Why should employers get involved in mid-life reviews? Firstly, the process of auto-enrolment means that many people now look to their employers for support, information and guidance on their pensions, so employers are in a natural position to expand that to encompass other issues as well. Secondly, along with age-friendly working practices more generally, employers can demonstrate that they are interested in the issues that matter to their older workers. Those workers feel respected and supported and are more likely to remain in work. This is good for their own wellbeing and personal finances and it is good for the organization, not just through retention of experience and skills but because they will also be seen as an employer of choice among this demographic.
The adage that "happy workers are productive workers" applies to older workers too. And if older workers are to be happy workers, they need age-friendly workplaces.
Fulfilling work: What do older workers value about work and why?
Read more