Marking International Day of Older Persons
Each year on 1st October, Age-friendly Communities across the world mark UN International Day of Older Persons (IDOP).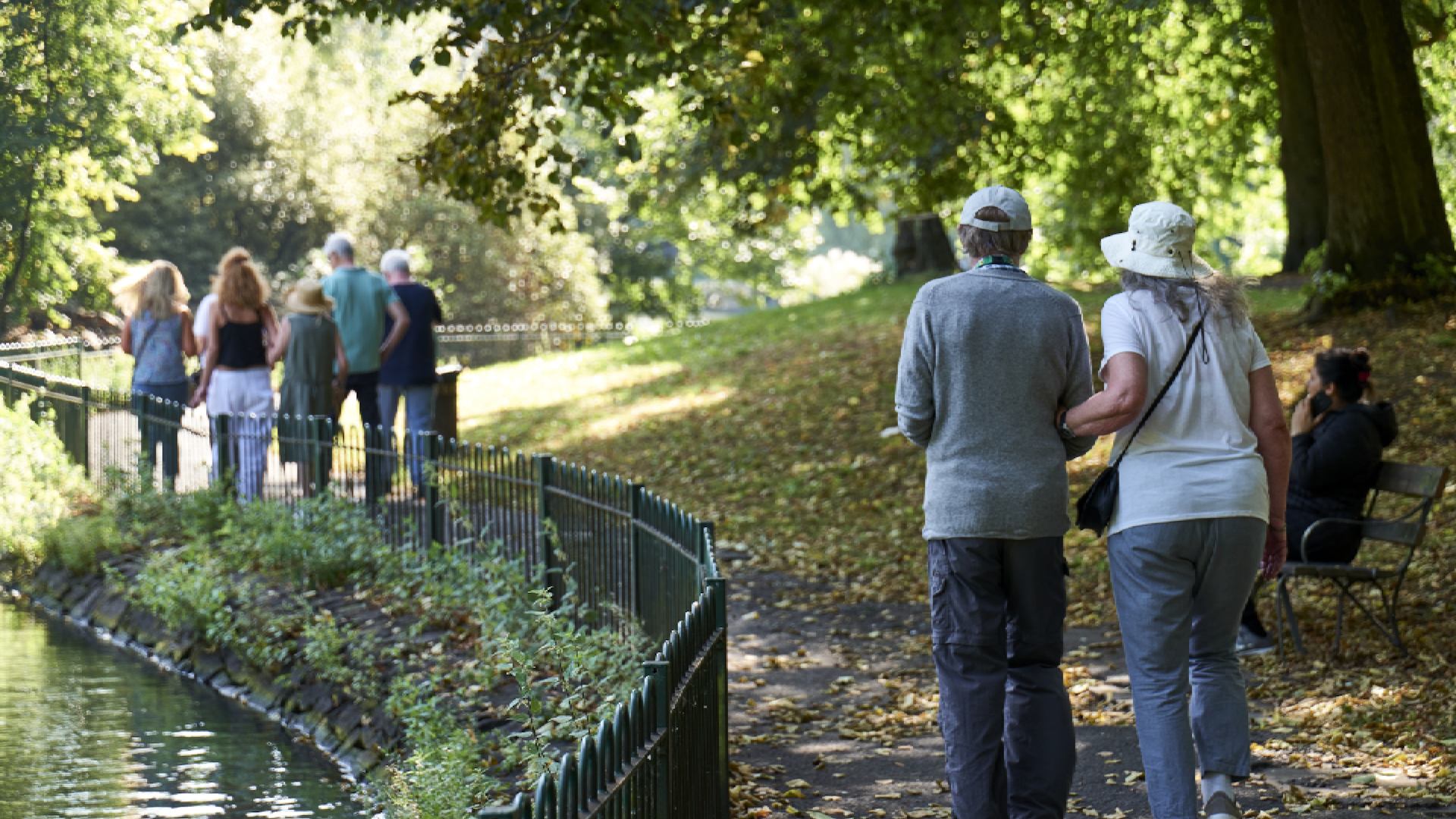 In this blog, Rebecca Lines, Age-friendly Communities Learning Officer, talks about how Age-friendly Communities work to celebrate contributions of older people and engage more older adults ahead of the winter months each IDOP.
Here in the UK, Age-friendly Communities are finding creative ways to mark the day – no matter their budget. Here are some examples of how they went about it in 2022:
1. Making age-friendly visible by illuminating buildings and flying the flag
Working with local councils, some Age-friendly Communities lit up key public buildings to get people talking about age-friendly.
Places including Barnsley and Fermanagh and Omagh opted for purple lights to mark the day, whilst others planned to alternate the colours of the petals on the age-friendly flower, representing each of the age-friendly eight domains.
Communities also sought to raise resident awareness of age-friendly work by flying age-friendly flags in town centres, and using pop-up signage in busy places like supermarkets, leisure centers and libraries.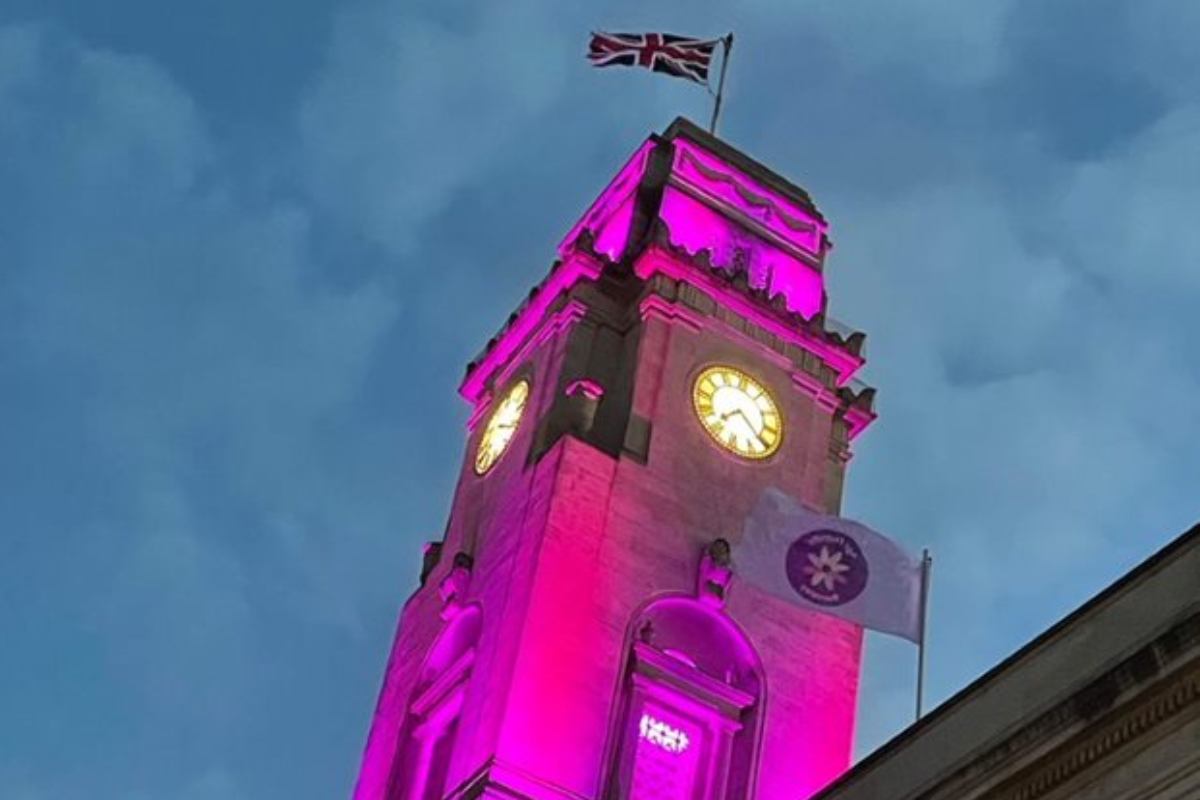 2. Launching Community Grants to help groups run age-friendly events
Starting in the summer, several Age-friendly Communities offered small grants to enable community groups to run their own activities as part of local age-friendly celebrations.
Leeds made grants of £300 available to  local groups in the city running events which, aligning with the UN theme, celebrated the resilience of older women and their contribution to their communities.
Positive Ageing Small Grants in Fermanagh and Omagh, Derry City and Strabane, and Causeway Coast and Glens made up to £500 available for activities and programmes to improve physical activity and reduce social isolation for people over 50.
3. Co-delivering creative activities with partners in arts and culture
Working in collaboration with local cultural assets, some age-friendly places created spaces for celebrating creativity in later life.
In Age-friendly Cheshire West, Chester's theatre, cinema and city library provided a home for their 12-day festival of celebrating ageing creatively. Storyhouse Elders explored and challenged societal perceptions of age and ageing and the impact of creating and experiencing art in later life.
In Belfast, Lord Mayor Cllr Christina Black launched The Festival of Windows – an art exhibition created by people living with dementia as part of their Positive Ageing Month. Bristol ran its first Celebrating Age Festival since the pandemic; a month-long city-wide festival featuring more than 40 events, including a choir performance in City Hall, over an animation workshop at the University of Bristol and a textile workshop at a contemporary art gallery.
4. Coming together for an ageism busting night out on the town
Having fun and celebrating plays an important role for many Age-friendly Communities marking the International Day of Older Persons. Some communities used the opportunity to meet in a favourite local venue and show the world that later life is for living.
At Newcastle's Inspire Festival, audience members were treated to new and diverse performances from 55+ community companies, followed by food, drinks and Northern Soul, with a dance demonstration from special guests. This marked the launch of a month of activities under the banner of imAGE – a Celebration of Ageing. Also making space on the dancefloor was Belfast's Engage with Age "Spooky Slipped Disco", featuring hits from the 1960s, 70s and 80s with fancy dress encouraged.
Greater Manchester's "tipsy takeover" of a trendy bar saw older residents launching their own quirky cocktail menu, with cocktails including "(Not Too Old For) Sex On The Beach" and "Gran-Daquiri".
5. Getting public health messages out through fun activities and events
IDOP provides a great hook to bring people together in a positive way while also promoting important public health messages and connecting service providers and the community. Many events and activities weave in messaging on keeping active, warm, nourished and connected.
Positive Ageing month booklets don't just bring together activities and events for districts in Northern Ireland – they also enable local partners to share their key messages in paper form. For example, Derry/Londonderry Strabane included a page on five steps to wellbeing and Fermanagh and Omagh included a page on reducing household clutter.
In-person events bring people together and can help to form the meaningful relationships that are so important to ageing well. Age Friendly Nottingham invited health and wellbeing teams and community champions to attend their IDOP events alongside older adults as an opportunity to connect and signpost. At Middlesbrough's celebration event in their town hall, attendees could meet local community groups and organisations while also getting their COVID vaccinations boosters. For communities like Torbay, their Ageing Well festival helps their age-friendly programme reach even more older adults in their area – at this year's festival they had over 2,250 attendees.
6. Localising the UN theme for International Day of Older Persons
IDOP can also be used to raise awareness around a particular relevant topic. Some Age-friendly Communities chose to implement the United Nations theme, part of which sought to mark the contribution and resilience of older women through the use of local data and older people's stories.
As part of the Uncertain Futures art and research project, four performance 'interruptions' took place at Manchester Art Gallery. Members of the public were invited to eavesdrop on these intentional conversations performed by women over 50 revealing some of the key findings about the reality of work for women over 50.
Salford's event featured a history talk, film screening and poem recital, all celebrating the resilience of older women of Salford. 'Informative', 'entertaining' and 'uplifting' were just a few of the words used by residents to describe the day.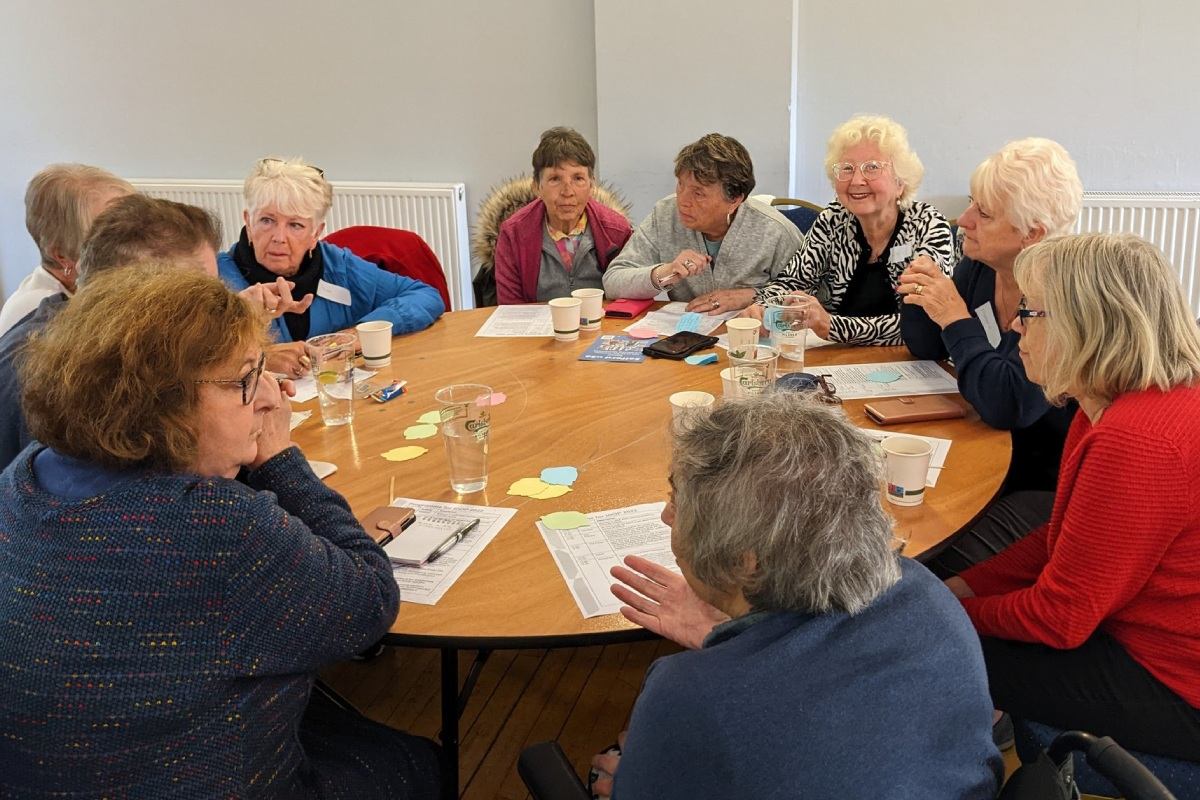 7. Showing gratitude to older people in the community
The lead-up to the 1st October can be a great time for people leading on age-friendly work to connect with new faces in their community and provide platforms for those making a difference.
In Bournemouth, Christchurch and Poole, residents nominated inspirational older people over community meals. Those who were nominated received a personalised thank-you and a piece of artwork from a local school. In addition to launching a new video showcasing older women's community spirit, Age-friendly Bolton created a wall of fame that toured civic buildings across the borough.
And in Trafford, a group of carers and volunteers were treated to a barge trip, afternoon tea and quiz to mark the day.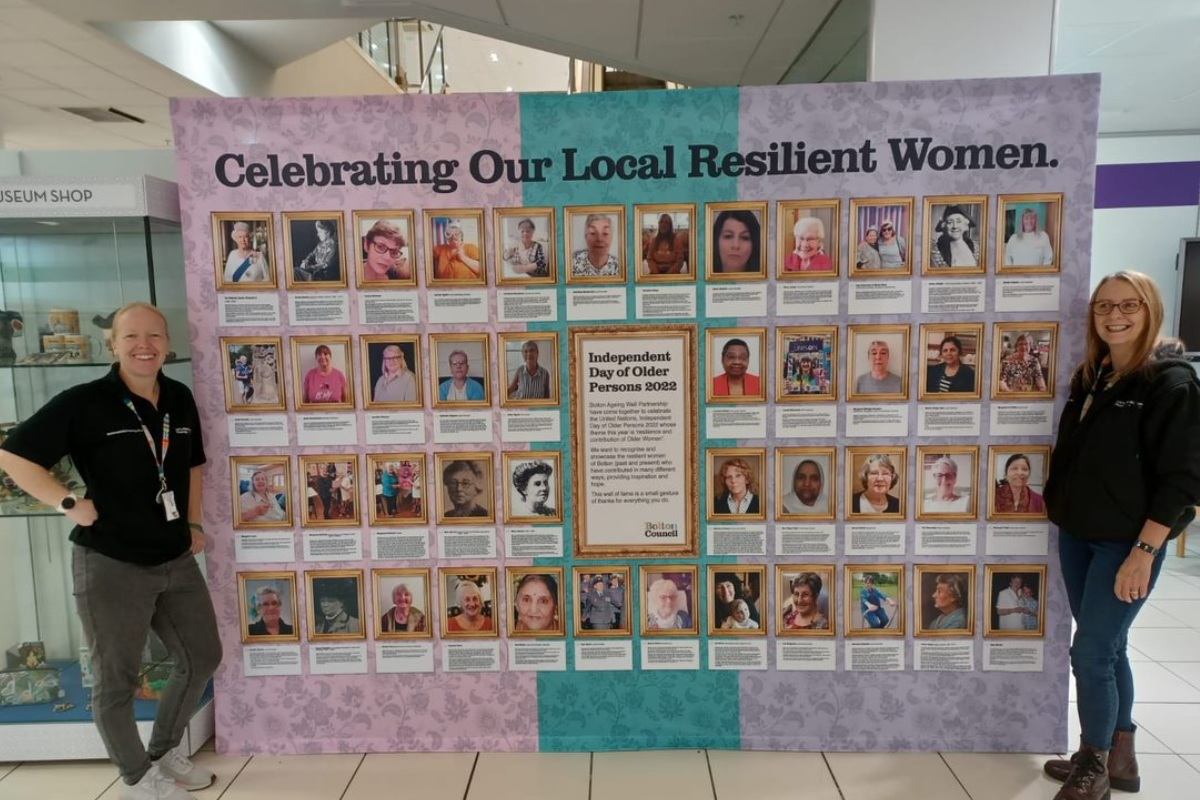 8. Launching a new age-friendly initiative
9. Coming together as age-friendly regions
The day also provides an opportunity to come together and reinforce a shared message as a collective of Age-friendly Communities.
Having met as a group to support and strengthen age-friendliness as a region, Age-friendly Yorkshire and Humber came together for the first time ahead of IDOP this year to share plans, and they came up with a new hashtag #AgeFriendlyYandH.
For the second year running, Greater Manchester co-ordinated a city region-wide campaign, co-created alongside its localities, with the voice of older adults at its heart. Greater Manchester Ageing Hub provided partners with a social media pack that was adopted by a range of partners #SheWillBeHeard.
10. Aligning with other dates in the calendar
October is home to other awareness days, weeks and months including Black History Month. For some Age-friendly Communities, this provides an excellent opportunity to put an ageing lens onto some of the other important items on the agenda.  
In London, for example, the Deputy Mayor wrote a blog that celebrated the resilience of older Black, Asian, and Minority Ethnic women who campaign for equality.  
Bristol's Celebrating Age Festival included a celebration of Black History Month with local volunteer-led group Malcolm X Elders.   
UK Network of Age-friendly Communities
Read more