Why is this important?
The outside environment and public buildings have a major impact on the mobility, independence and quality of life of older people.
Accessible public buildings, walkable spaces including parks, seating and public loos all contribute to being age-friendly and can make all the difference to people of all ages and abilities.
Evidence
Cities Alive: Designing for ageing communities
ARUP, an independent firm working across all aspects of the built environment, has launched a report Cities Alive: Designing for ageing communities. Cities Alive is a series of research publications from ARUP taking a human-centered approach to rethinking how cities should be designed and managed in the future. This latest publication reviews the performance of 10 European cities and investigates how politics, planning and ageing intersect. Paul McGarry from Greater Manchester was interviewed for the report, which features work done in the Greater Manchester area and specifically by the GM Ageing Hub.  
International Resources
How walkable is your town?
Age-friendly Ireland have produced Walkability Audits to inform the development of an effective audit tool for Irish roads and streets. The audits were carried out as part of the 2014 Age Friendly Town Programme, using a Universal Design approach. 
How to create a grandparent park
In need of a place for children and adults to spend more time together outdoors, Wichita, Kansas, built a playground for all ages.
Guide: Creating Parks and Public Spaces for People of All Ages
A 2019 resource from AARP, 8 80 Cities and the Trust for Public Land – Creating Parks and Public Spaces for People of All Ages: A Step-by-Step Guide, aims to support community leaders and residents who are interested in building more inclusive public spaces
Walk audit toolkit and leader guide
Walkable communities promote health, foster a sense of connection and community among residents, and provide an overall sense of place and belonging that helps make a neighbourhood liveable for people of all ages.
UK Resources
Take a Seat: How-to guide
This one-page toolkit from Age-friendly Nottingham will help you get started on your campaign to make seats available in your local community.
Read about the next domain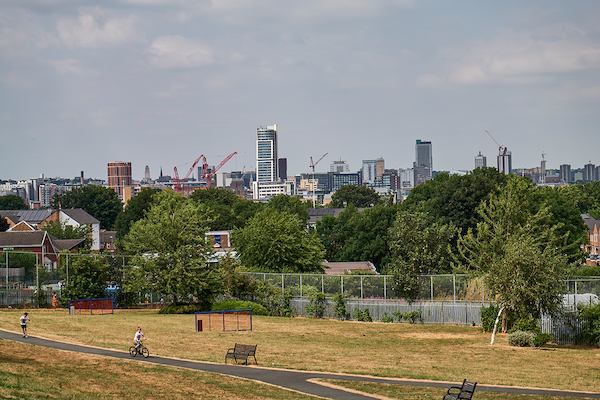 Whether using public services or alternative options, transportation is a key issue for people in later life.