Resource
Centre for Ageing Better
6 Jul 2021
COVID-19 and the digital divide: Supporting digital inclusion and skills during the pandemic and beyond
This report offers examples of good practice and recommendations for organisations that deliver services to users and help digitally excluded people with skills training.
Before the COVID-19 pandemic, people without access to the internet were already at a significant disadvantage in terms of seeking job opportunities, accessing financial support, and connecting with organisations. The pandemic has dramatically exacerbated this situation.
We commissioned Citizens Online to understand more about the effect of COVID-19 on digital skills and usage. The research was conducted with a range of organisations, local authorities, and people aged 50-70.
The report finds that the key to building digital inclusion isn't only about getting more people online, but also building skills and confidence. 
National and local government need to recognise and promote the crucial digital support offered by local organisations to combat widening digital inequalities. It's also important to recognise that many people still do not want to use the internet and want to continue using non-digital channels.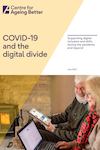 COVID-19 and the digital divide: Supporting digital inclusion and skills during the pandemic and beyond
Download