Denise's voice - ageism in recruitment
The carer has experienced different forms of ageism over the years but says that employers are overlooking good workers because of their age.
Denise, 66 from Dorset, tells us about her work in the care sector and how she regularly faces prejudice because of her age.
I have worked for the NHS and in nursing homes over the years, so I have plenty of experience in care. I have also managed a guest house but I wanted to return to the care sector. Caring is what I really love.
I have been in my current job for about 18 months. I do some caring but I also do some spot-checking and interviewing people for work. It is not just about care for older people. Some of the service users are only in their 20s. 
I provide personal care four days a week. It can be heavy work but most of the people I look after are agile. They have dementia mainly, so they mostly need direction and encouragement, and a bit of TLC.
I take one lady out. We normally go to somewhere like Waitrose. She will buy herself something like a bar of soap and enjoys having a look around. Then we have a drive and return home for lunch. She makes sandwiches, with a bit of supervision. When lockdown ends, I'm looking forward to having a cream tea with her in the New Forest, or by the beach in the car.
I have been a widow for 30 years, so I always need to work. But at my age getting a job is not easy. You'd think it might be different in care, with such a shortage of experienced carers. My age was a big obstacle. Some agencies were very rude when I told them my age. One care company asked if I could bend over and touch my toes. I started laughing. I said "I'm sure if we had a run around the block, I could keep up with you." I cycle for miles and miles on my days off. I don't have any underlying conditions and I am in good health, so I didn't have to shield during lockdown and I have been able to work throughout.
Don't think we are all ready for the scrap heap and unfit, ready to put our feet up. They think we haven't got any brain cells left. We've got a lot of 'get up and go' in us.
I got this job because the family wanted an older person to care for their mother. A lot of people have said to me they would rather have an older carer, because their mum or dad wouldn't like being washed by a young lady. They want somebody who has seen a bit of life and has a bit more experience behind them. Old-fashioned values.
But the people who do the recruiting and managing are young. I think some of them feel intimidated because I do have a lot of experience and a few more life skills under my belt. A lot of younger people think that you are after their job 'Oh my god, she's overqualified.' But I really don't want their job. I'm not interested in going up the ladder, and having a career. I have done all that. I only want to do what I do, get paid and go home.
I went for a job in a nursing home, I could have done the job with one hand behind my back, after 15 years of days and nights in the NHS and other healthcare settings. They said I was over-qualified. But either they think I'm too old or they don't want somebody coming in who will rock the boat.
Don't think we are all ready for the scrap heap and unfit, ready to put our feet up. They think we haven't got any brain cells left. We've got a lot of 'get up and go' in us. I can help you and give you a few pointers. I can be on your side.
Good Recruitment for Older Workers (GROW)
Read more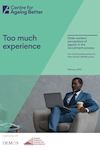 Too much experience: Older workers' perceptions of ageism in the recruitment process
Download