The Census 2021 shows an urgent need for more Age-friendly Communities
The first release of Census 2021 data reveals that the proportion and growth rate of older populations in England and Wales varies significantly in different locations.
Our Deputy Director of Localities, Natalie Turner, explains that all local authorities need to take urgent steps to better understand and prepare for this change.
The first release of Census 2021 data has revealed a snapshot of England and Wales' population and it tells us that we're experiencing a massive shift in the age profile of our population. The proportion of people aged 65 and older in England and Wales is now at a record high of 18.6%, with the numbers of people in this age group increasing by 1.9 million since the last Census in 2011.
The data also shows that the size and growth of this shift varies hugely across different parts of England and Wales. As the map below shows, in the coastal authorities of North Norfolk, East Lindsay, Rother and East Devon, at least 30% of the population is aged 65 or older. Indeed, in all of these except East Lindsey, almost one in ten people is aged 80 or older.
The local authorities whose populations have undergone the greatest shift over the last ten years (a more than 5% difference in the proportion of the population aged 65 or older between 2011 and 2021; see map below) are Northumberland, Richmondshire, Hambleton, East Riding of Yorkshire, Derbyshire Dales, Staffordshire Moorlands, Mid Suffolk, Babergh, Isle of Wight, West Devon and Torridge.
These are all rural areas, which is consistent with the trend for inward migration of older people to the countryside to retire and of young people away from the countryside to towns and cities for education and work opportunities. In a number of cities more than a third of the population is aged 24 and younger with the biggest proportion of under 24s (four in ten) in Nottingham.
For the moment, all these places with the biggest proportional increases in older population are situated in rural and coastal areas. However, it remains to be seen how changes brought about by the pandemic with a reported exodus of older age groups to the country, triggered by repeated lockdowns and the possibility of remote working, will affect the rural versus urban age structures shift in the future.
Understanding what is happening in a place in relation to an ageing population is also not a simple matter of numbers. In general, coastal areas tend to rank highly in terms of deprivation and health inequalities while rural areas tend to be less deprived than urban areas and their residents tend to have better health outcomes and higher levels of social capital. But averages can mask huge variations within areas and there can be significant barriers for older people living in rural and coastal areas including poor transport options, fuel poverty, challenges in the provision of health and social care, including recruitment and retention, and limited digital infrastructure.
Some local authorities will have a higher proportion of older age groups in their populations than others and for some this shift is happening more quickly. But population proportions and percentage increases do not tell us much about how well we can age and how good a later life we can expect to lead in a certain location. Other factors, including the proportion of older age spent in good health or with good income, able to work, access services and capability to continue the activities an individual needs or wants to do, are what really matters.
Strong local leadership is therefore needed in places across the country if as a society we are going to respond to this demographic shift. One way that local authorities can show leadership is by joining the UK Network of Age-friendly Communities, members of which have made it a political and practical priority to adapt to ageing.
Through local initiatives such as Nottingham's Take a Seat campaign, the UK's first cohousing scheme for older members of the LGBT+ community and the Age-friendly award in East Lindsey recognising businesses that provide an excellent environment and customer service for older customers. But being Age-friendly goes beyond these much-needed initiatives. It is a change in philosophy, understanding the need for concerted, coordinated action across all policies.
A growing movement with over 50 member places, covering around 23 million of the UK population, the network is a collection of places including cities, districts, towns and counties where people of all ages are being supported to live healthy and active later lives. East Lindsey is just one of the areas, but also included is Greater Manchester, London and other core cities.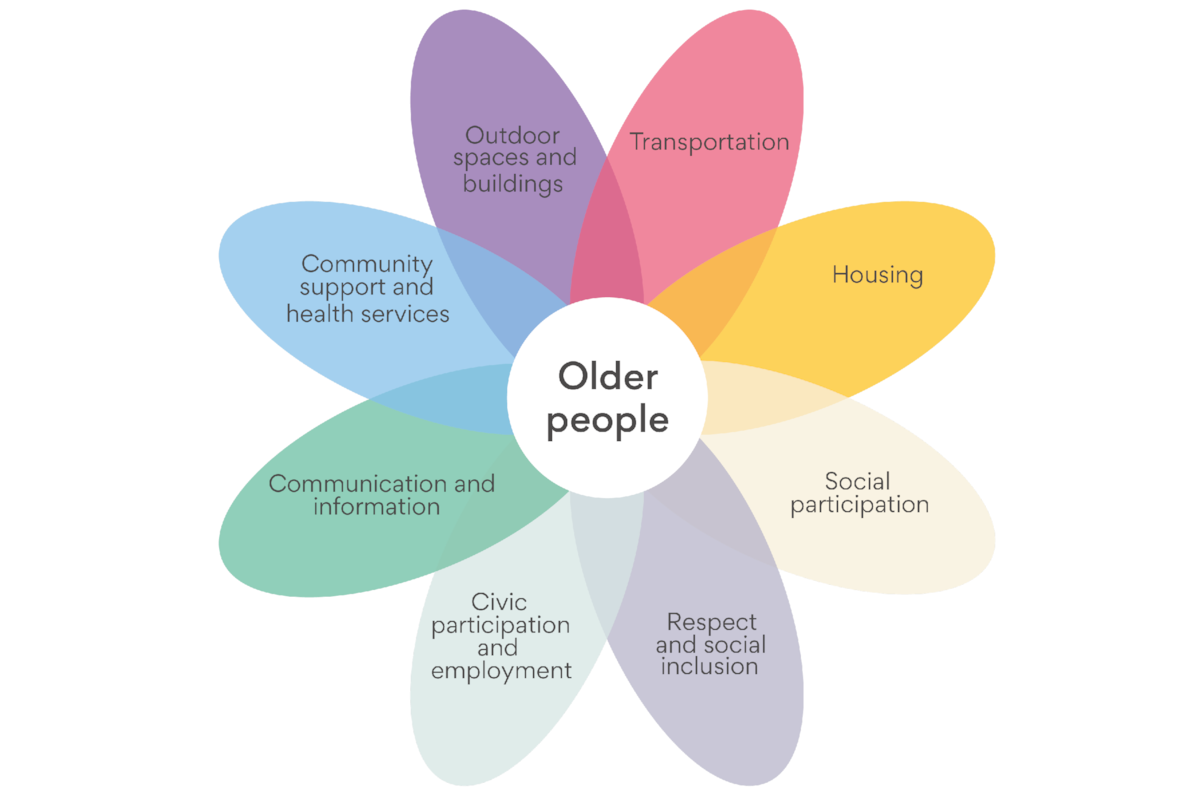 The Age-friendly Communities Framework was developed by the World Health Organisation, in consultation with older people and is built on the foundations of evidence of what supports healthy, active ageing in a place. The Framework consists of eight interconnected domains, which, when acted upon, can help to address barriers to ageing well.
The approach is preventative and focused on the whole life course. For local authorities with either high proportions of older people or localities with a rapidly increasing ageing population, adopting an Age-friendly mentality and framework now and backing that up with investment will deliver positive outcomes for all ages and the potential to deliver savings in the long run.
For local authorities looking to act in response to what the Census data is telling them, Age-friendly Communities offers an evidence-based, globally recognised, way forward and can be impactful even if local authorities are only able to commit a limited amount of resource.
Age-friendly principles are easy to adopt into existing services and strategies viewed through an ageing lens. To find out more contact [email protected].
Data analysis by Dr Aideen Young, Senior Evidence Manager - Research, Impact and Voice
This article first appeared in the Local Government Chronicle.
Developing a local 'State of Ageing' report
Read more