Resource
Centre for Ageing Better
9 Aug 2020
A mid-life employment crisis: how COVID-19 will affect the job prospects of older workers
This report sets out the steps that the government can take to support older workers to prevent long-term unemployment in the wake of COVID-19.
The COVID-19 pandemic has triggered a labour market crisis. The crisis follows a period when employment among older workers had reached historic highs. There is now a real risk is that the pandemic could reverse this trend, leading to long-term unemployment for older workers.
This paper, based on findings from research carried out by Learning and Work Institute commissioned by the Centre for Ageing Better, highlights that the number of older workers on unemployment related benefits has nearly doubled as a result of the pandemic – increasing from 304,000 in March to 588,000 in June. 
Workers in their 50s and 60s face distinctive and significant challenges. They are more likely to struggle with returning to work than other workers and haven't seen the same benefits from previous employment support programmes as younger workers. There is a risk of a 'second wave' of job losses for older workers as the furlough scheme comes to an end in October 2020. One in four older workers – 2.5 million in total – have been furloughed, and hundreds of thousands of these workers may be unable to return to their previous jobs as some sectors struggle to recover.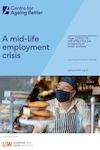 A mid-life employment crisis: how COVID-19 will affect the job prospects of older
Download
COVID-19 risks triggering long term unemployment crisis for older workers
Read more